Made in the USA with Do-A-Dot Art
Celebrate the Fourth of July with American Made Products
Here's a fun way to get kids involved with decorating for your Fourth of July barbecue. While they're at it, they can learn about our national colors, the flag and important symbols, and improve their motor skills as well.
Print out the banner templates from the PDF below (the more the merrier)
Color the bunting with Do-A-Dot markers.
Cut out each piece once the paint has dried.
Fold along the dotted line
Tape or glue each one along a string.
Decorate tables, your fence, or walls with the red white and blue bunting.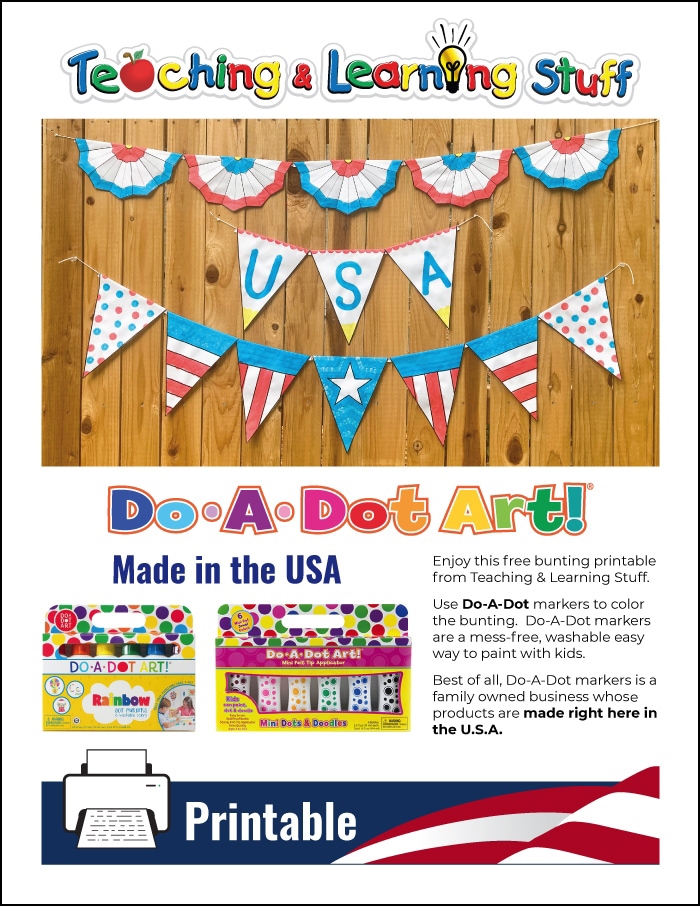 Fourth of July Bunting
Do-A-Dots are made right here in the USA so you'll be supporting American businesses and workers on our premier national holiday. What could be more patriotic than that?
Looking for even more fun? Get the adults involved too by hosting a coloring contest while the hot dogs are on the grill.
Here at Teaching & Learning Stuff we're committed to supporting working Americans by carrying Made in the US products as much as possible.
---
The Sky Can Be Bubblegum Colored
25 years ago, Tina, an enterprising full-time mom and part-time preschool teacher, was the type of person that never shied away from getting out paints and messy art materials, but she noticed that among her peers, she was the exception not the rule.
Learning from her experiences and interaction with children, Tina invented a new mess-free way to let kids dip into all the colors of their imagination. It was a special dot paint applicator.
Children were able to layer and blend colors like never before.
They could fill in large spaces, shapes, and create textures.
Children loved the new art medium.
Parents loved the finished projects.
Teachers loved the easy setup and cleanup.
The businesswoman in her recognized the potential in this product and along with her husband Rob; they went on to build a high quality art medium that grew from being a creative apparatus for kids to an educational tool with significant impact. Do-A-Dot Art is the original dot art marker, and to this day mess-free painting for kids is revolutionary.
Do-A-Dot Art continues to be a family run business that aims to make the world a more creative place one colorful dot at a time.
---
Made in the USA
We are proud of the employment opportunities we create in the USA as a small manufacturer. As a family run business we put a lot of pride into our products, and we are grateful to have a dedicated team that assembles our paint sets in a harmonious special needs work center. We appreciate the love and care they put into each and every assembled set of Do-A-Dot Art Markers.

Do-A-Dot Art
---
More American Manufacturers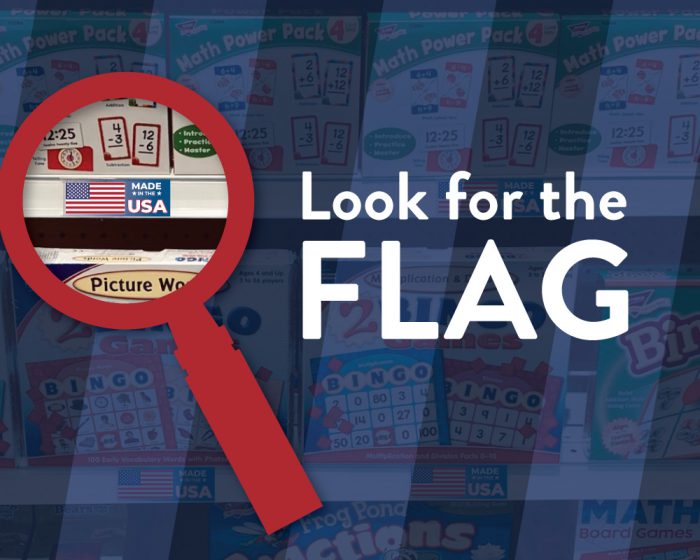 Looking for more American products for your home or classroom? Look for the flag next time you shop at Teaching & Learning Stuff.