How will you decorate your classroom for the next school year?
Let's Talk Classroom Decor
We know you're thinking about it. How will you decorate your classroom for the next school year? You might be changing rooms or moving to a new grade. Frogs were cute for 1st grade, but 5th graders might need something a little different. Or maybe you're just tired of the same decor you've used for the last 5 years. Let's talk classroom decor! Read to the end and get our exclusive shopping list!
Themes and Color Schemes
Themes are abundant in the classroom decor world. We aren't just talking apples and stick figure kids anymore. (Though we still like those, too!) You should see some of the new awesome themes that are available; from Apples to Zoo animals and everything in between that any age student can enjoy!
Schoolgirl Style lines from Carson-Dellosa with the bright rainbow colors of Hello Sunshine and adorable photographic animals in Woodland Whimsy! Succulents on the dark charcoal background in Simply Stylish are a great option for a class with older kids. And don't forget Industrial Chic with its shiplap and polka dots! Carson-Dellosa also has a really cool Galaxy theme with blue and gold tones.
Home Sweet Classroom and Confetti from Teacher Created Resources are two very opposite looks. The first has a farmhouse style with corrugated metal, wood tones, and believe it or not, mint and hunter greens! If you're a fan of Fixer Upper on HGTV, you'll totally dig Home Sweet Classroom. The second is just what you'd expect: bright colors sprinkled on a white background with a giant border to accent desks, walls, and other places that could use a pop of color. (Confetti straight border is in featured photo at the top of this post.)
Home Sweet Classroom

Cool, Magical, and Iridescent
Cool and Calm from Creative Teaching Press delivers just what it offers: muted pastels for an easy classroom look. If you want to add a little sparkle, Iridescent and Glitz accents and borders from TCR work well with that theme! How about Under Construction, Sports, or Bright and Bold, which mixes black and white with bright colors. Classics that you still love, like Chalk It Up, Superhero and Emojis are also still here with us!
As soon as you decide on a theme and colors, and have your bulletin board set picked out, next you'll want to…
Make a Run for the Borders
Corrugated. Straight. Scalloped. Solid. Prints. Glitter. If one border is great, then two or three are even better! Layer those borders and add interest, color and dimension. Maybe even some sparkle! Borders are not just for bulletin boards! Use borders to trim your desks, caddies, cubbies, and much more. Laminate your borders and get something to store them in to keep them looking nice for longer.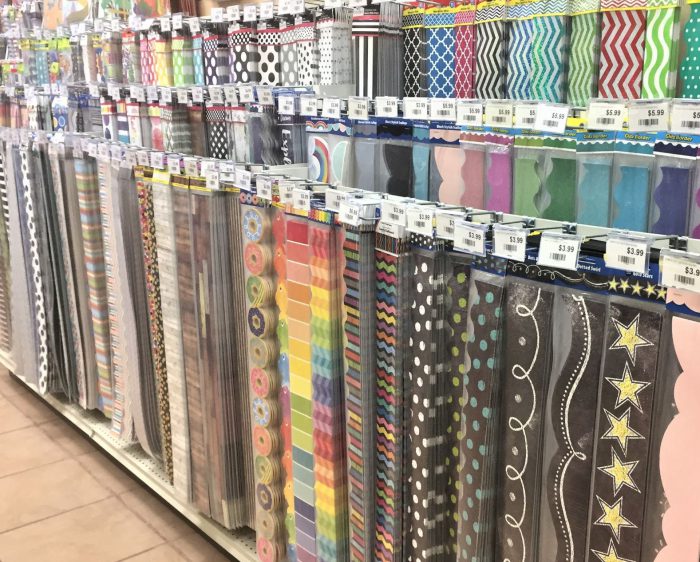 Did you know we have magnetic borders? Not only are they attractive, they do double duty on a white board and hold papers in place. No more tape! So trim out that white board, door, or windows with these for some added fun!
Got Paper?
We have every solid color of fadeless paper you can imagine, as well as designer paper, art roll paper, and Better than Paper. What's Better than Paper, you ask? It's a product that can be used in places you need something more durable. Think long-term; like in halls where the decor remains year-round. It won't tear when little hands are tempted, is reusable, and you can write on it with white board markers and wipe it right off! We have samples in the store. It was a big hit when it debuted last year and is already flying out the doors so get it soon!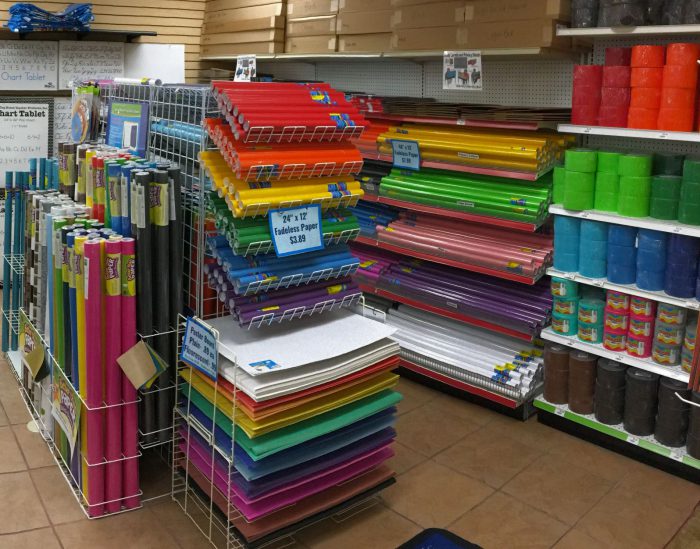 The Final Touches
Finishing the look can be the fun part. Need a banner, pennant, paper lanterns or fans? We've got those. But that might not be your thing. Every teacher is different and not every room has to look like a Pinterest post. Some practicality is in order, even in the most decked out spaces! Incentive, job, and informational charts round out the decor. Don't forget the pocket charts and calendars. Print off this handy shopping list and come on in and browse the best selection in town, or shop online with us and pick it up in the store! We're happy to help!