Kids will open up these gems and work on a specific activity contained inside. They are a great way to encourage independent learning and improve fine motor skills as well.
Who knew file folders could be so much fun?
We created these file folder games for preschoolers using items in our store! Kids will open up these gems and work on a specific activity contained inside. They are a great way to encourage independent learning and not only help with academics, but with fine motor skills as well. You can come up with the themes and pieces on your own, or use workbook pages made specifically for this activity. Laminate or cover with clear contact paper for durability. If you organize the insides just right, you can three-hole punch these and place them in a binder, along with accompanying pieces in separate snack size zip bags.
---
What We Used
Star Accents
Chart Seals
Clear Library Pockets
Make Your Own Flash Cards
Letter, Number and Animal Stickers
Craft Foam Sticks, Shape Buttons
Double-Sided Tape, Sharpie
---
What We Did
We opened and laminated all of the file folders first.
For the letter matching, we used our double-sided tape to stick 26 star accents inside the folder and put an uppercase letter sticker on each one. Then we cut squares out of our blank flash cards and wrote a lower case letter on each one, adding a small chart seal at the top left corner for directional purposes. We chose not to laminate the stars onto the folder so the game could be changed out later as the child grows.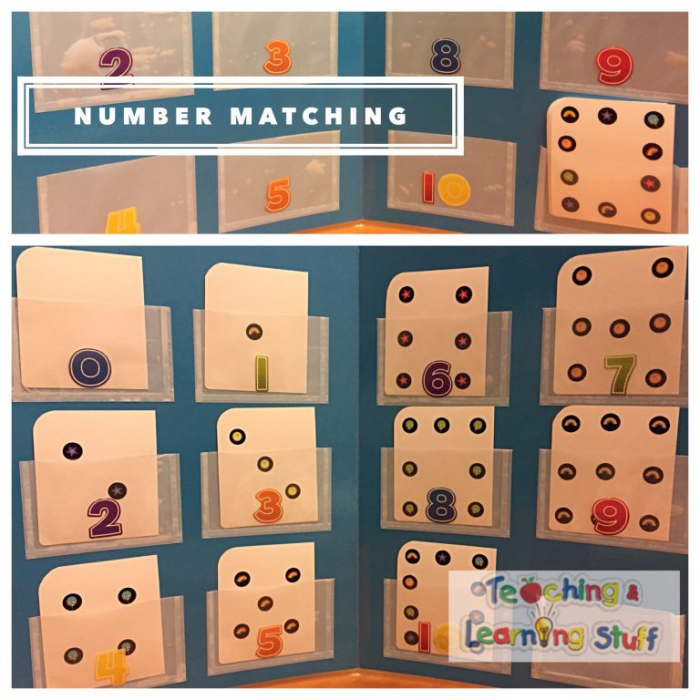 Our number matching game used 12 of the clear library pockets, cut down to about half size. We cut the blank flash cards in half, put chart stickers on each one "domino style" representing numbers 1-10, then put a number sticker on the outside of each pocket. Yes, we included zero! There is a blank pocket at the bottom left to keep all of the cards in one place.
This is one of our favorites: color matching. We used the remaining star accents put them on the front of the clear library pockets, which are self-adhesive. We cut down 3 of each color of the foam craft sticks and inserted them into the matching color pocket. When you get this game out, you'll simply remove the sticks from the pockets and let the child find their match! Easy!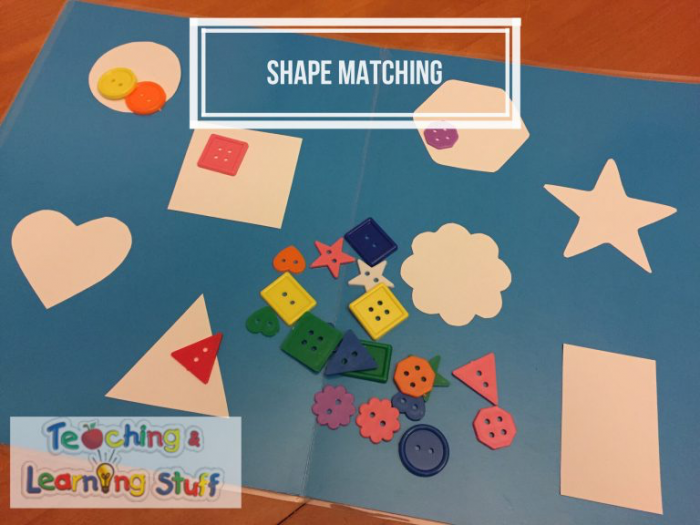 For our shape matching file folder, we took a bag of large craft buttons and fished out 3 of each common shape and cut out matching shapes from our flash cards. We chose flash cards over cardstock because they are more durable. We used double-sided tape to attach the white shapes onto the folder. You can laminate them to the folder, but again, we chose to be able to remove them later if we wanted. That's it!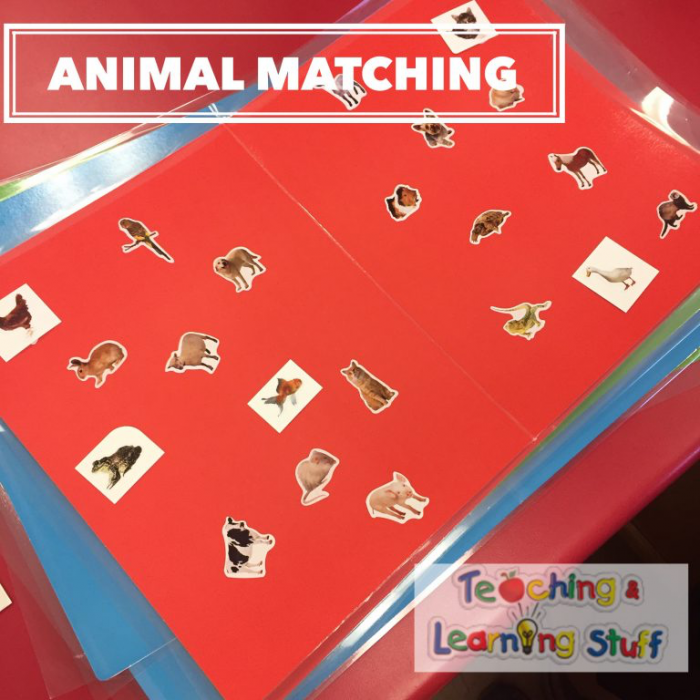 We took the 5th folder and put an assortment of animal stickers in random places, then mounted a matching sticker onto a cut out square of our flash cards.
The 6th folder was left blank inside, and on the remaining flash cards we drew easy line patterns to duplicate such as spirals, waves, and peaks for a child to draw on the inside of the folder with a dry erase marker.
---
Other Ideas
Other ideas for file folder games include opposites, sequencing, patterns, and seasons. As your child is ready, change them out with addition and spelling or beginning sounds games. We enjoyed making these and hope you will feel inspired to create some of your own. Come on in to the store and we will help you locate the supplies you need. Other than that, all you need is some creativity!