Science that Sticks: Magnets!
Sometimes you just want something for your kids to do that doesn't require much supervision. Something you provide, but they can explore on their own. Something you know is educational, but they think it's just plain fun! An easy place to start is with magnets! We mentioned magnets here and we're going more into depth in this post with creative ways to explore with magnets. These ideas actively encourage self-direction and discovery, as well as creativity. Just let the child be the guide! You can easily put these free-play magnet centers together with merchandise from our stores along with a few other items. Your kids will be attracted to them for hours!
DIY Magnet Play
Discovery Bottles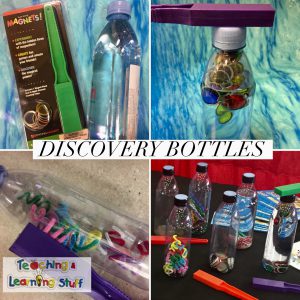 We used 6 smooth-sided clear plastic bottles with screw on lids. Evian water bottles work well for this project. The outside surface is smooth and the labels peel off with no sticky residue. They are made from sturdy plastic and are easy for small hands to hold. In two of the clean, dry bottles, we added baby oil. Water would have caused the metal items we were planning to put inside to rust. In those we placed magnetic colored chips and a handful of plastic coated paper clips. For the next two bottles we added curly pieces of pipe cleaners and straight pieces of metallic pipe cleaners. We put bottle caps that we bent just slightly to get them to fit, and about 1/2″ of iron filings in the last two. Then we hot glued the lids shut and covered them all with electrical tape for good measure. We provided several magnet wandsthat could be moved along the sides of the bottles while the items inside move along with them.
Sensory Bin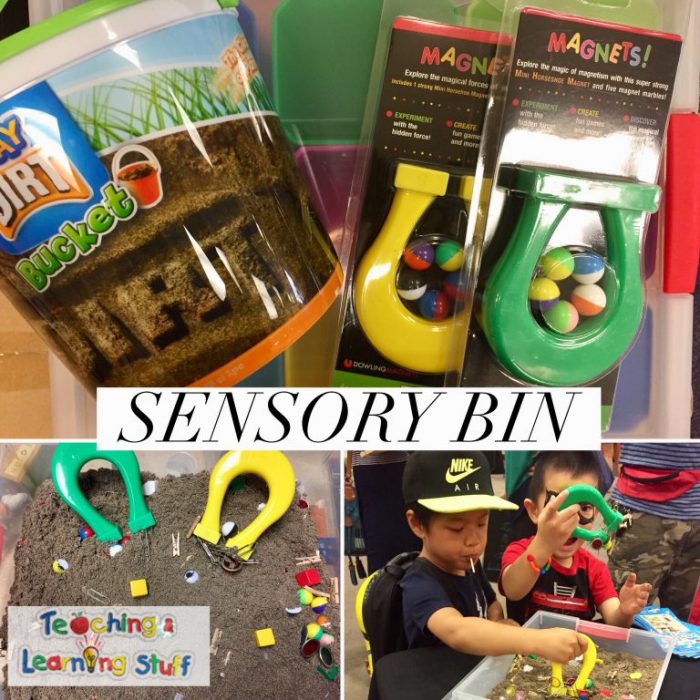 We took one of our lidded bins that also comes with separate containers inside, filled it with amazing substance called Play Dirt, and added items that may or may not stick to a horseshoe magnet. Our items included tiny clothespins, large buttons, paper clips, dice, magnetic marbles and chips, and googly eyes. Children can sort their discoveries into smaller containers labeled "magnetic," and,"not magnetic." Add a third bin for "both," for older children who understand that concept. For instance our clothespins were wood and metal; the metal hinge sticks but the wood doesn't.  Simply dump everything back into the sand and the snap the lid on the bin for easy storage. Let's face it: kids love playing in dirt. Use a plastic garbage bag underneath and you can put what falls out back into the container.
Sand Tray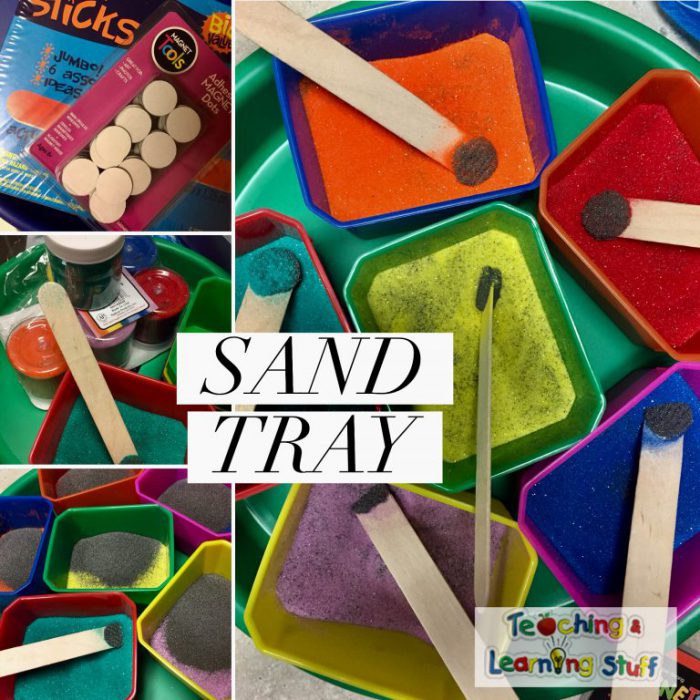 We made our own magnetic wands with jumbo craft sticks and 4 adhesive magnet dots, 2 on each side. Keep in mind, these magnets are not super strong, but will still pick up lighter items, such as paper clips and iron filings. Then we took 6 of the small containers from the lidded bin mentioned above, placed them on a round sand tray, added colored sand to each one, then about a tablespoon of Iron Filings. Kids can collect the filings on the end of their wand, or run the magnet along the side of the container and see the filings move around. At the end of the day, some of your sand may become multi-colored instead of separate colors and at that point you can simply make a few more discovery bottles to use with the stronger magnetic wands.
Moving Putty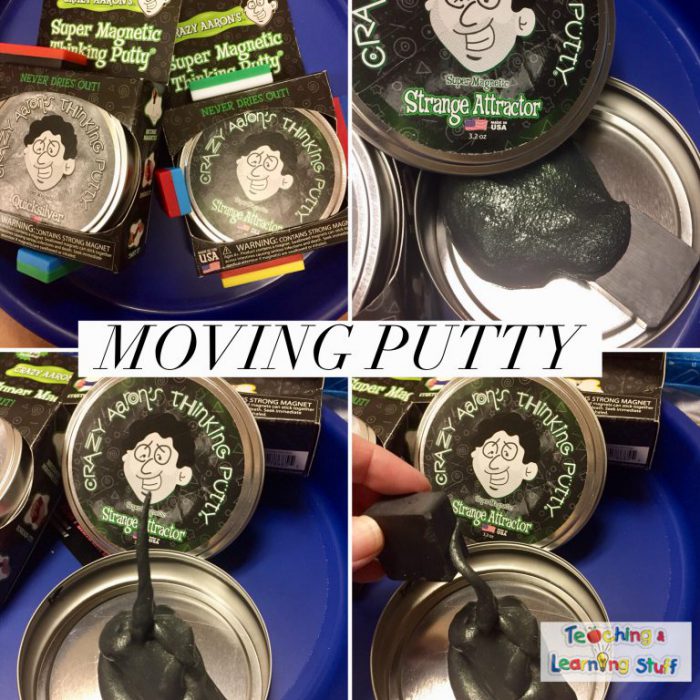 We have a huge variety of Crazy Aaron's Thinking Putty in our stores! Each tin of the Super Magnetic Putty comes with its own heavy-duty magnet! For several kids at once to use a section of this putty, we paired it with our strongest block magnets. Just mold a piece of this putty into a ball, run the magnet over it, stretch a piece out from the ball, then hold the magnet next to that and watch how the putty comes to life! Seeing is believing! You have to stretch the putty thin to see it in action. Also, be careful where you set the putty; it can stick to fabric so we used one of our plastic sand trays to contain it. It doesn't stick to plastic and comes right off of the magnets we used. You can still stretch, pop, and knead it just like the other kinds.
Learning Easel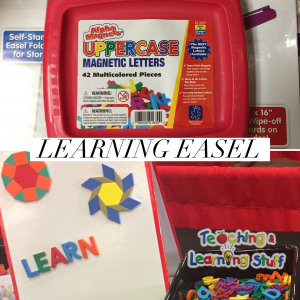 Get the random magnets off of the fridge and into a separate play space! We carry a great selection of magnetic easels, but chose this double-sided compact folding easel and tubs of magnetic letters, numbers, and pattern blocks to provide for some fun exploration. Use our magnets or create your own with our adhesive magnet dots or tape, assorted stickers, colorful accents or border sections that have been laminated, or whatever else you can come up with! Your easel can do double-duty as a story-telling space, using paper dolls you have laminated or covered with contact paper. Again, you would just adhere magnet tape to get them to stick and you're ready to go! When you're done, put everything into a tub and fold up the board for easy storage!
Building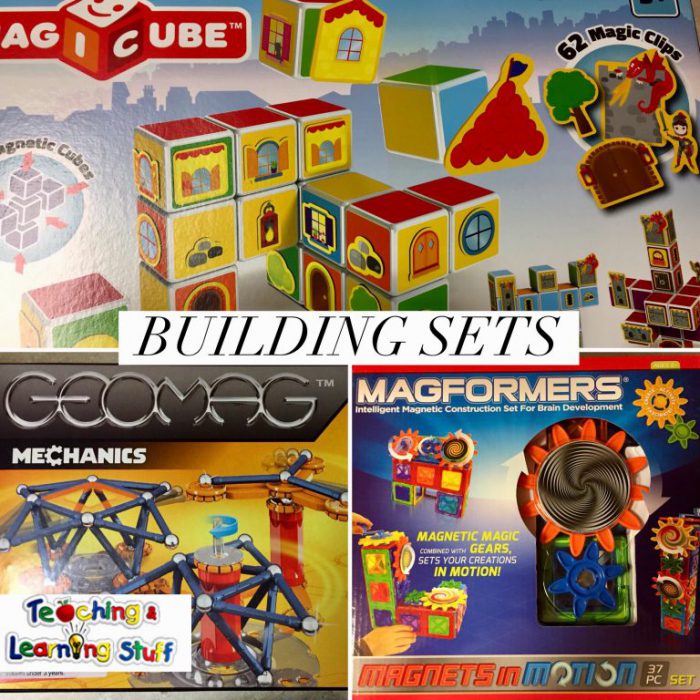 For kids who love to build, take more of those craft sticks and place an adhesive magnet dot on both sides of each end for endless building ideas. Don't forget to check out our GeoMag Education Kits, Geomag sets, Magicubes, and other construction kits online and in-store! Your budding engineer will spend hours discovering the never-ending ways to use these sets! Our bags of 20 super-strong magnetic stones are always a hit! We have great educational toys for birthdays and holidays and will gift wrap your purchased items at no extra charge! Come see us and we'll help you find a great gift. Smart really does start here!