100% Made in Italy for 70 Years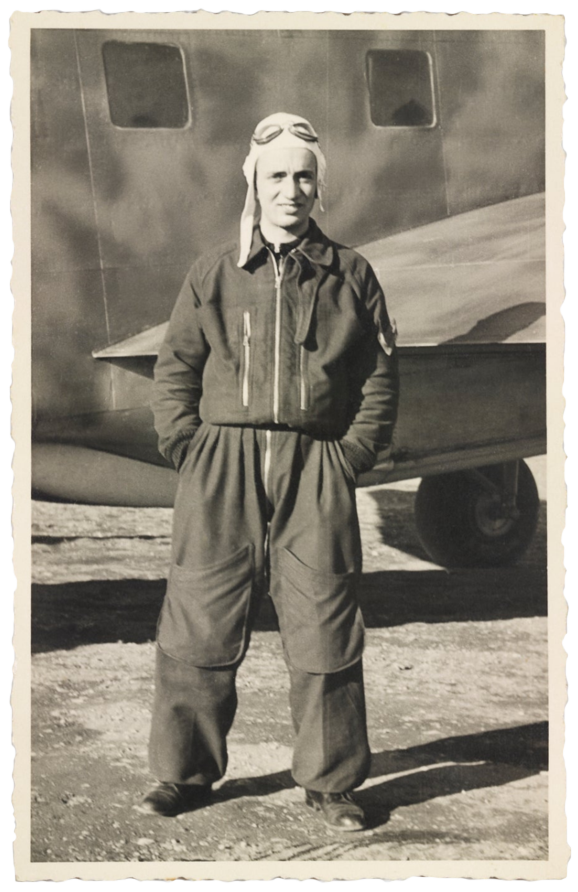 The history of Quercitti is the story of its founder, Alessandro Quercetti. After taking part in World War II as a fighter jet pilot, he started working in a small factory producing tin mechanical toys. In a short space of time he took over the company and became its owner.
Hopla, Patented Mechanical Toys became Quercetti in 1950, expanding rapidly, and the workforce increased to more than 200 employees. Alessandro continued to lead the company until he passed away in 2020.
70 years after it was founded, the Quercetti family is still the head of the company, following in the same principles of honesty and sharing inherited by its founder Alessandro.
The entire production cycle, from the design of the toy to its delivery, is carried out in Italy, in the city of Turin. Its workers reside locally, and this creates an essential resource in the region.
Space for Individual Creativity Allows for Individual Development
Quercetti children's toys distinguish themselves from other toys in the simplicity of the shapes and in the fact that they leave space for individual creativity. Each toy has a single function, but it also has the potential to be used any way the child can come up with.
Well designed toys can make a child's world more interesting by stimulating their natural curiosity, allowing children to best develop their own talents and skills in a free playing environment.
---
Here are just a few of the Quercetti educational toys you'll find at Teaching & Learning Stuff.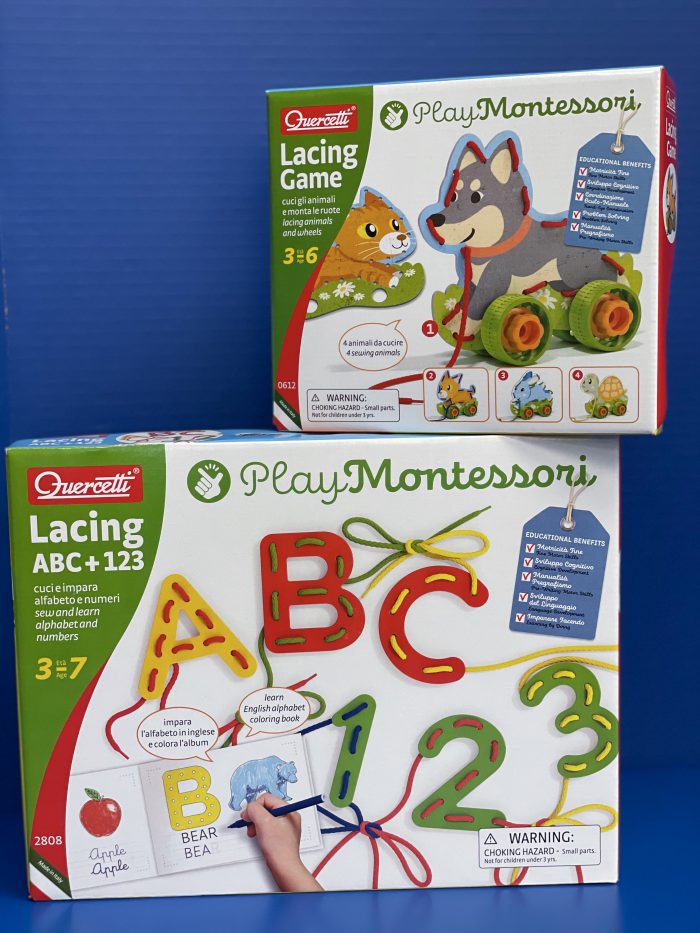 The Lacing Game contains 4 cute cardboard animals to be mounted on wheels and dragged with colored laces.
By tying letters and numbers together, you can create chains and necklaces. Playing, your child will train fine dexterity while memorizing letter and number shapes.
A brand new magnetic double-face smart puzzle for children, with 12 cute animals to recognize and fit. The pieces are easy to grasp due to the thickness of the animals. In addition to being a puzzle, the animals can be used as figures during imaginative play or story times.
The Spiral Tower allows you to build towers from which to launch marbles with dreams that sound during the descent. Large marbles are safe and easy to grasp.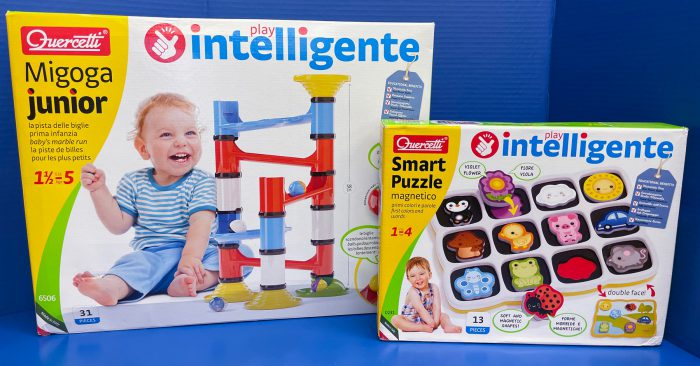 In Migoga Junior all the elements are very large and each one has a different color so as to recognize them immediately; safe and engaging for many hours of play at even the youngest ages.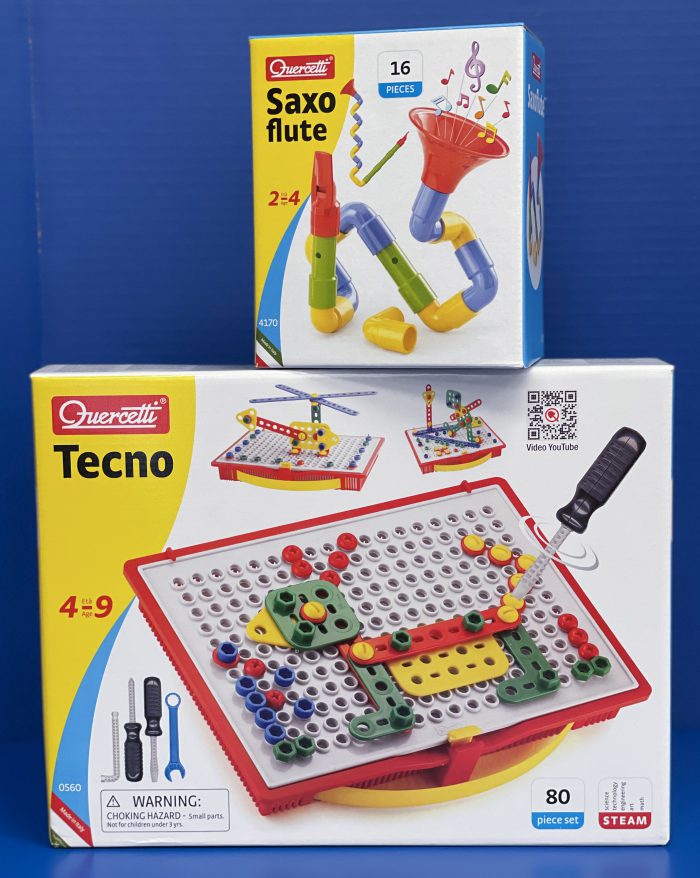 With Saxoflute you build fantastic musical instruments ready to be played. All pieces are unbreakable and ensure many hours of play in total safety.
In the Tecno case you will find all the most common tools of use reproduced in a realistic and totally safe way. It's an ideal game to familiarize your child with the mechanics of simple tools.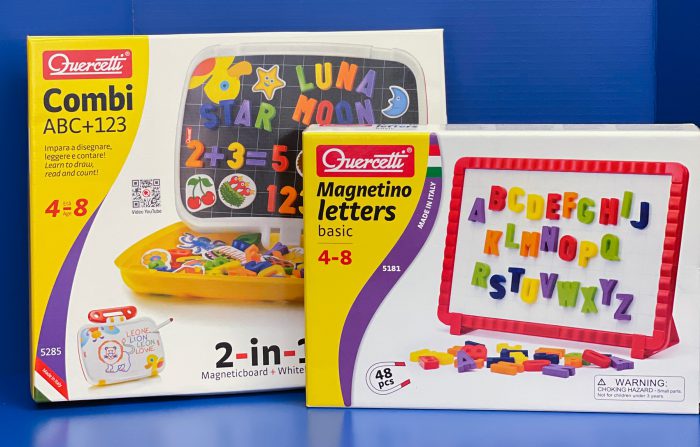 Combi is two games in a single large multifunction case: on the one hand you learn to read and count with letters and magnetic numbers, on the other you practice to write and draw.
Magnetino Letters is a classic magnetic board with a shockproof plastic frame and practical basket with handle to put everything in order after playing.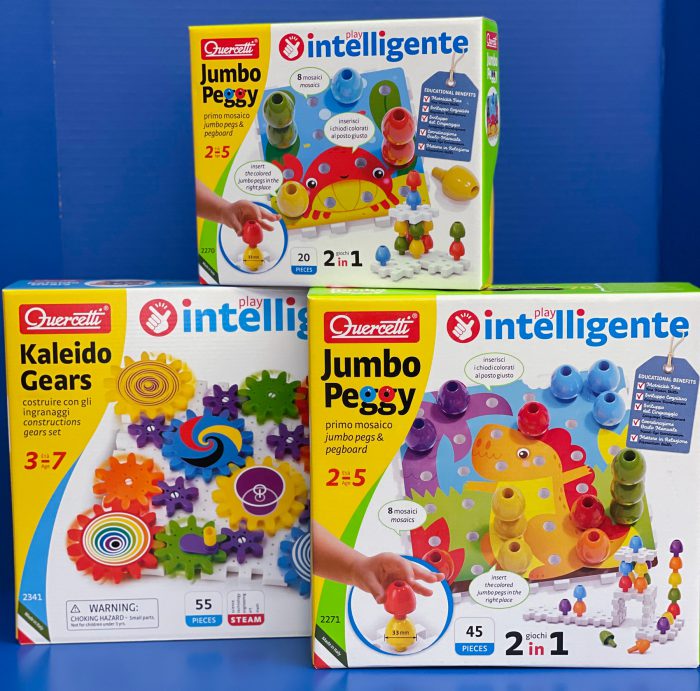 Jumbo Peggy is an innovative construction game for the little ones. In the kit many interlocking plates can be connected to compose many custom vehicles. Decorate your vehicle any way you like with colorful large pegs.
Kaleido Gears allows you to learn some simple principles of mechanics. Once the game is finished, the special crank puts everything in motion with a chain reaction.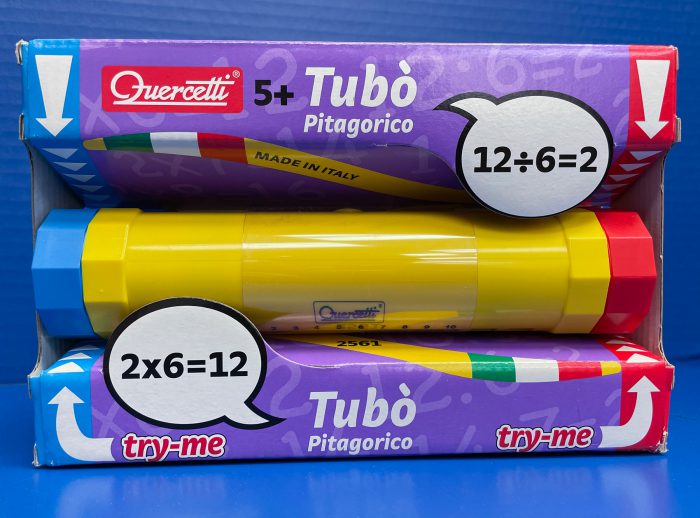 With Tubò, learning the multiplication and division facts from 1 to 10 will no longer be a problem. Turning the colored knobs you will learn to carry out all the operations in a clear and intuitive way.
---
"Play Intelligente"
Like it says right on the box: Intelligent play is at your fingertips at Teaching & Learning Stuff. Come in and discover the craftsmanship and intelligent toys from Quercetti.