At Teaching & Learning Stuff, we're glad to be able to provide a large selection of tactile sensory tools to help kids who have a variety of learning needs. Children with autism, ADHD, and anxiety, to name a few, tend to benefit from using different types of sensory tools. Not only do they assist with…
Our top 10 picks for tactile sensory stuff!
Kinetic Sand, Mad Matter, Play Dirt– perfect for open-ended play, but useful for academics, too! Spread out in a sand tray or cookie sheet for writing practice!
Doughs and Clay– roll up thin strips to form letters and shapes, or roll out flat and use alphabet cookie cutters. Great for fine motor skills!
Thinking Putty– roll into strips to practice cutting skills using child-safe scissors, or simply twist, pull and press.
Slime– good for table play, especially while kids listen to books read aloud or are learning via video.
Sensory Balls– grab, bounce, and roll these soft spiky balls while also working on hand-eye coordination. Hold and squeeze a small foam ball to keep hands busy.
Grippies and Bristle Blocks– focused playtime is better with these textured building tools that have chunky pieces for easier building. Read more about the benefits of construction play!
Sandbag Animals– these sparkly creatures are slightly squishy and can be taken anywhere with no clean up!
Play Foam– another toy for table play, the tiny foam beads are squishy yet moldable.
Tangle Toys and Wacky Tracks– fidget to focus with these toys that bend, twist and engage minds.
Squishy Toys– squish, splat, squeeze these tactile favorites. Keep them in the car, backpack, or anywhere kids may need a diversion.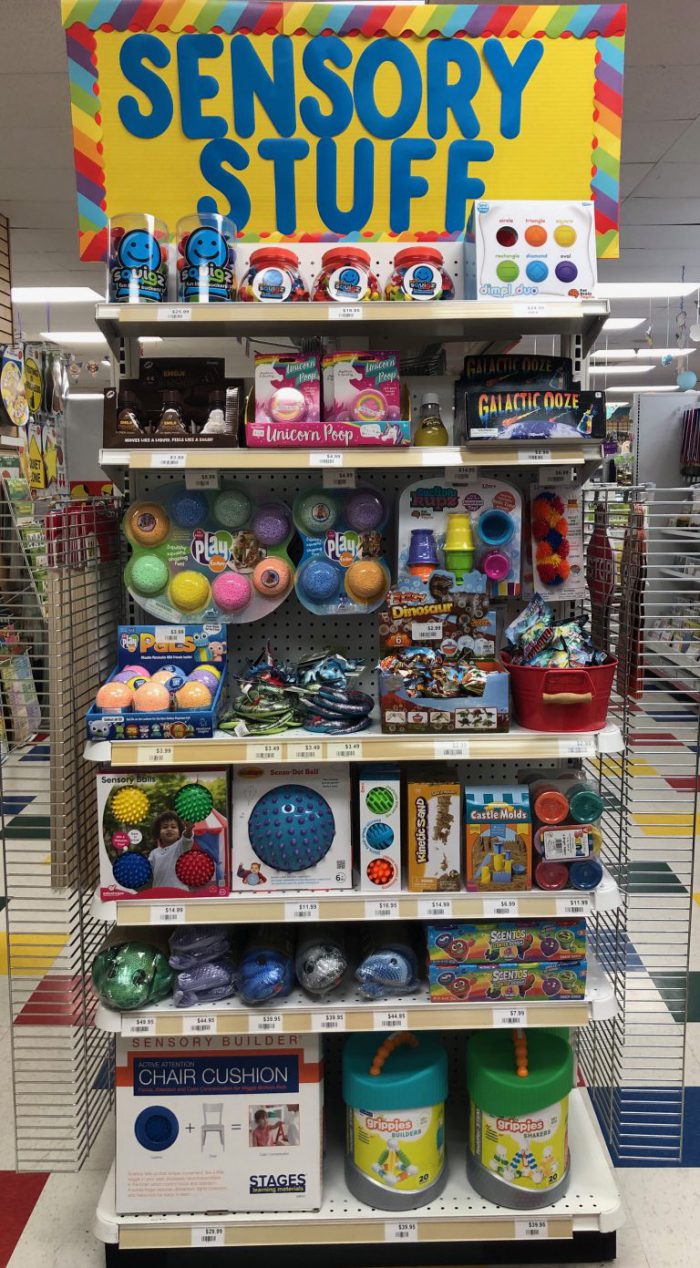 Be sure to check out our small toy catalog for dozens of tactile items you can pick up in the store today! While you're there, look for multi-sensory handwriting paper, pencils with fidget toppers, and sandpaper letters and numbers to add to the sensory learning experience. See you in the store!