Fun For the Younger Learners
Teaching young children is about more than just preparing them for preschool or Kindergarten. It's critical to build the child's relationship with learning to set a solid foundation for future education. Building a relationship of trust between the student and the teacher should be one of your primary goals. The social and emotional experiences young children gain from the earliest age promotes positive values that will help them through school and into their adult lives.
The goal of early education should be to activate the child's own natural desire to learn.

Maria Montessori
Puzzles are a perfect tool for teaching young children in an engaging and fun way. They'll develop fine motor skills, explore basic concepts, and learn to stick with a task to completion.
Some puzzle pieces fit in just one spot, and one way, their naturally self-correcting (meaning the child learns to problem solve independently). Through completing the task, children build self confidence.
Some puzzles are more open-ended and don't have one correct solution, which helps a child develop creative thinking and personal expression.
---
We're highlighting a few of the new puzzles we've brought in recently, but visit the store to check out our selection of hundreds of early learning puzzles and activities.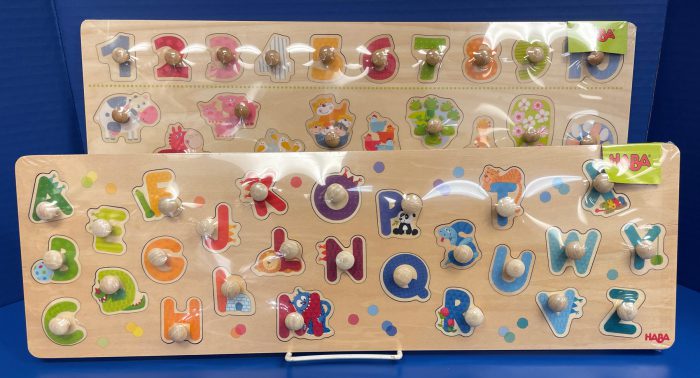 Number Puzzle
Toddlers can become acquainted with numbers 1 through 10 while working on their puzzling skills with this lovingly illustrated puzzle made from high quality plywood, and featuring easy to grasp knobs.
Alphabet Puzzle
A, B, C, D, E, F, G… This colorful clutching puzzle encourages children to learn the alphabet by puzzling the large, easy to grasp knobs into the puzzle frame, while fostering fine motor skills and shape and color recognition.
Several letters include a picture clue such as a Dragon for the letter "D" and an Igloo for the letter "I"
Puzzle is made of linden plywood
---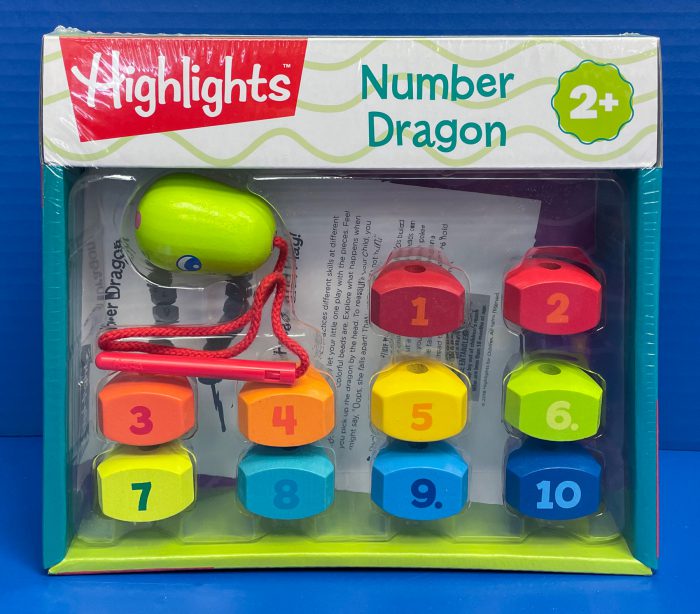 Number Dragon
Number Dragon is perfect for teaching about colors and numbers, and for promoting fine motor skills and hand-eye coordination. Little ones can string 10 rainbow-colored wooden beads to create a friendly dragon figure.
Each colorful wooden bead has a number and a matching amount of symbols like stars or diamonds to count
---
Puzzles from Highlights Teach Early Skills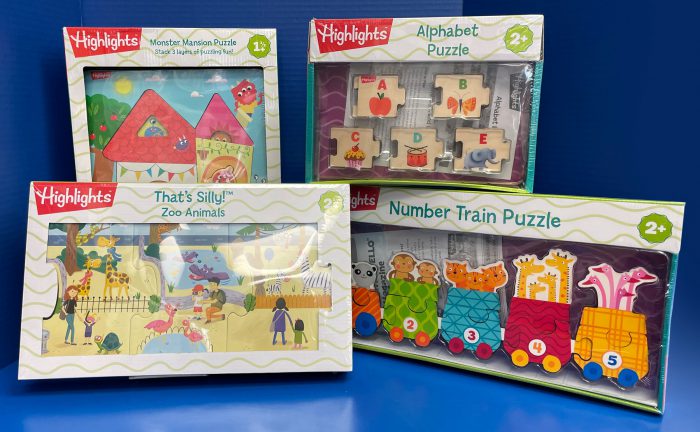 Number Train
Who wants to ride the number train? These cute critters do! Match the tops and bottoms of the train cars by number or color or pattern. Or mix them up just for fun.
Use it to teach numbers and colors, and promote fine motor skills
Alphabet Puzzle
Featuring a bright illustration and uppercase letter on each piece, this wooden puzzle set is an engaging way to teach little ones the alphabet. The interchangeable pieces fit together end-to-end to form an adorable 55-inch long puzzle that kids will love.
As their knowledge grows, they can learn to put the pieces in the right order
An instruction sheet shows more fun ways to play, too
That's Silly Zoo Animals
A sloth in a party hat? A penguin eating a pretzel? That's silly! Kids can decide for themselves what's silly while they arrange and rearrange the interchangeable middle pieces to create a different scene each time. This fun floor puzzle features enough absurd critters to tickle any kid's funny bone.
Pieces fit end-to-end to reach almost 2 feet
Monster Mansion
What's going on at the Monster Mansion? It's a party, complete with cake, gifts and balloons! Take the puzzle apart to see all the monster friends decorating and celebrating together. Kids will be delighted to find the fun surprises in the different layers of this sturdy wooden puzzle.
---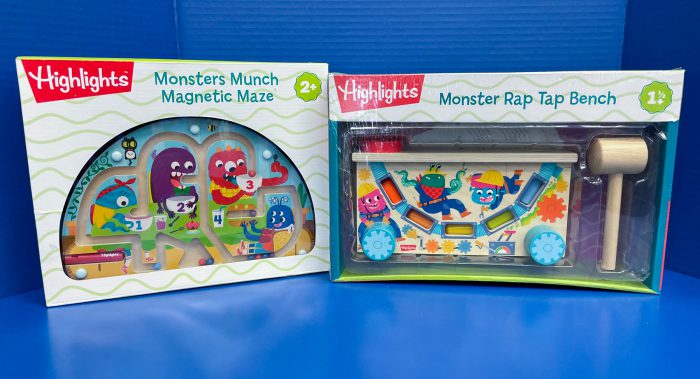 Monster Munch Magnetic Maze
These silly monsters are waiting for their meals. Kids can help feed them by using the wand to guide magnetic balls through a covered maze, matching the number of balls to the numerals. The ball colors match the monsters, too, for another way to play.
An enclosed instruction sheet has even more fun ideas
Magnetic wand fits in a special slot and is attached by a string so it doesn't get lost
Monster Rap Tap Bench
Hard hat-wearing monsters are busy at the construction site, and your child can help. Tap a peg in one end with the kid-sized mallet, and another peg pops out the other end.
Count the pegs
Talk about colors
Promote fine motor skills
Demonstrate cause-and-effect
---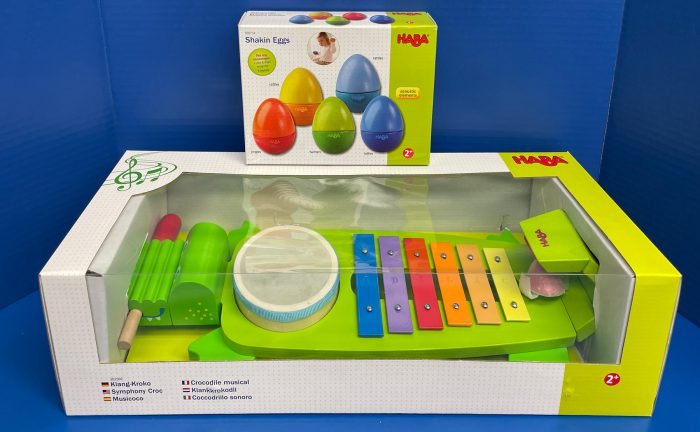 Symphony Croc
There's music in the air – Symphony Croc is here! Perfect for play dates, the set contains two mallets and the drum can be easily removed from the crocodile base for playtime duets.
Fosters children's musical development and encourages a sense of rhythm while honing fine motor skills
Shakin' Eggs
Includes 5 rainbow-colored wooden eggs each of which make a different noise. Four eggs shake (2 rattle, 1 chirps, 1 jingles) and the light blue egg twists to make a clicking sound. Made of solid beech wood from sustainable forestry in Germany and treated with multiple layers of water-based stains that penetrate into the wood, followed by a clear protective coating making them totally safe for toddlers who still explore with their mouths.
Each egg measures 3" tall, perfectly sized for little hands to shake, twist and bang together
A favorite in Montessori classrooms, musical eggs foster color recognition and auditory discovery
Acoustic sounds intentionally soft, perfect for tuning in little ears
---
Encourage Budding Artists with Faber-Castel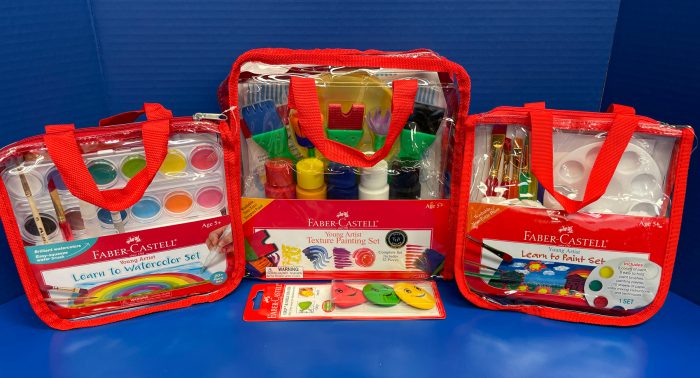 Learn to Paint Set
From paint to paper, this set includes everything a young painter needs to create awesome masterpieces. The paint brushes have a triangular handle that are easy to hold. Paint pallet is easy to handle and perfect for creating new colors
6 Artist Quality Paint Brushes of varying sizes
10 Sheets of Paper
5 Colors of Washable Paint: Red, Yellow, Blue, Black and White
1 Paint Pallet
Color Mixing Instructions and Techniques
Learn to Watercolor Set
The wonderful world of watercolor is explored in this all-inclusive set – perfect for any level of artist.
12 vibrant watercolor cakes
angled brush
fine tip paint brush
water brush
6 sheets of watercolor paper
6 sheet of multipurpose paper
Other tools
Tips and techniques that will "wow" your child artist
Texture Set
Experience the joy of creative artistic expression. This complete set includes 32 pieces! Everything a young artist needs to experiment with color, texture, paint and patterns. Plus, a fully illustrated instruction guide that includes paint mixing chart, tips and techniques. Store materials in the portable, red handled carrying bag
5 Washable Tempera Paints: Red, Yellow, Blue, White and Black
5 Fun Texture Tools
1 Paint Tray
20 Sheets of Paper in a Handy Carrying Case