Classroom Management Tools: Job Organization
Whether you're a first year teacher or on year 25, managing the day-to-day operations of the classroom is a major part of your job. The teacher on year 25 can most likely tell the 25-year-old teacher a thing or two about how all of this has changed throughout the years. When we think of classroom management, we may first think of ways to organize the space. While organizing the stuff in the classroom is certainly part of the overall picture, we'll focus on specific areas of classroom management in the next few posts. These include:
class jobs
behavior management and growth mindset
rules and schedules
All of these are part of keeping things organized and running smoothly in your classroom! Let's start with organizing class jobs!
A Sense of Responsibility
Believe it or not, kids benefit from chores. When you give them a small, manageable job to do, not only does it give them a sense of responsibility and accomplishment, they know they are a trusted part of a team. However, no longer are we just cleaning a chalkboard and taking the erasers outside to bang the dust out of them at the end of the day. There are fish to feed, centers to keep straight, items to pass out and collect; the list goes on. How do you keep on top of it all?
First, make a list all of the jobs that are appropriate for kids to do in your classroom. From watering plants to sharpening pencils to fetching coffee for the teacher. Alright, we made that last one up, but the point is, you get to decide! Then, figure out how long kids will do the jobs; some will be rotated weekly, and others who stay after class may be assigned the end of day jobs, like changing the date on the calendar and cleaning the board.
Ways to Organize Class Jobs
Assembled Solutions
What teacher doesn't love a pocket chart? There is a pocket chart created for just about every area of the classroom. This specific one was made just for class jobs! You could potentially use other pocket charts for your system but why reinvent the wheel. We like this one because it includes write-on/ wipe-off cards. The classroom helpers chart pictured is really 3 charts attached by grommets and comes with clothespins for name markers. Each of these is very simple and ready to hang without much prep work.
Classroom helpers pocket chart and assorted wipe-off markers

Classroom helpers chart with clips
Bulletin Board Sets
Some of our favorite tools are classroom job bulletin board sets, which come in many different styles to coordinate with your room. They are flexible and can be updated every week as the kids who do the particular job are switched around. These pieces can be laminated so you can write names on them with a white board marker, then erase if needed. They will also be handled a lot and laminating makes them more durable. These simple sets coordinate with a line of other products but can be added to just about any color scheme or style you have going.
Some class job mini bulletin board sets use manipulatives, like clips or craft sticks. Either makes it easy to transition names on particular jobs. These two sets from Creative Teaching Press will make that space in the classroom Magical or Calm & Cool. Clips and sticks are included, but we carry a variety of options if you want to add some color or interest.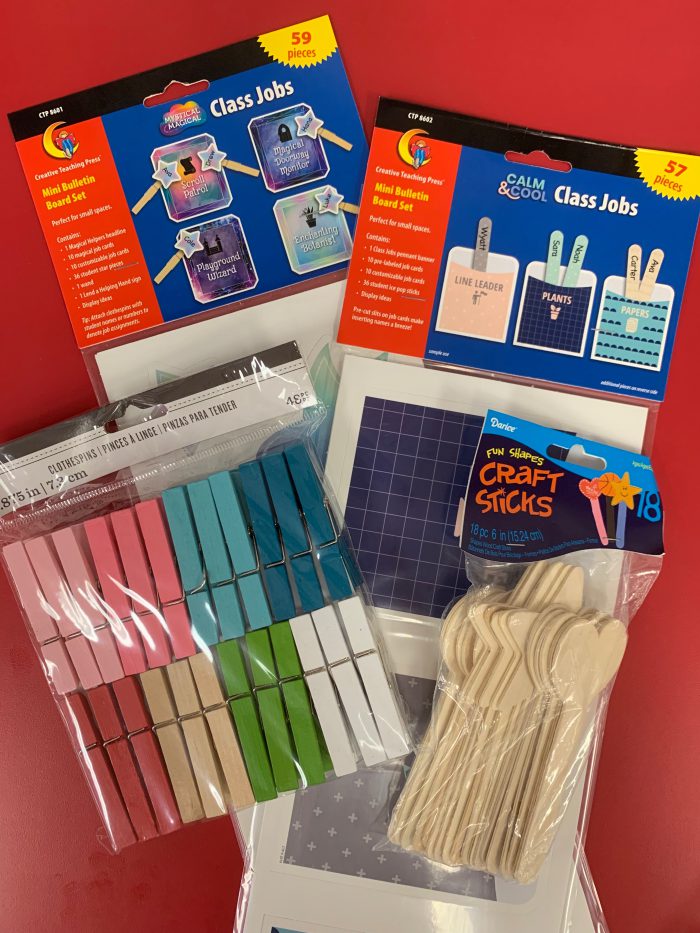 Get Creative!
If you're feeling crafty, library pockets and craft sticks can be used to create a unique job chart for your space. We created this editable set with vibrant southwest colors and designs. After choosing the jobs we wanted, we printed them out and adhered them to jumbo craft sticks. We used plain manila library pockets so the laminated nameplates would stand out, and used Gold Shimmer Better than Paper for our background so it would hold the weight nicely. Did you know you can write on this paper with wipe-off markers or liquid chalk markers then wipe it clean when you're done? Now you do!
Job sticks in progress

Job sticks in action!
Maybe you don't have wall space for a job chart. You could use the sticks for classroom color groups and put them in buckets for kids to draw a job from. Do you homeschool or simply want to keep kids on track with chores at home? The bucket system might be the way to go! Color group daily, weekly and monthly chores.
No matter how you choose to organize classroom jobs, there is something for everyone. Something visual and used consistently will help keep everyone on track, and keep your classroom functioning well all year long!
If you like what we created, click on the PDF link where you can get them for free! Be sure to sign up for our newsletter so you don't miss out on the latest news from us. In the comments, feel free to share any tips and tricks you might have for job organization in the classroom!
Free Printable Class Jobs for Jumbo Craft Sticks
They fit perfectly on jumbo craft sticks.