Pete started out in children's books, but has now grown into a TV show, theater production, and, of course, classroom themed decor and products for kids.
Back to School with Pete the Cat
Going back to school is a natural end to summer break and the start of new schedules. It may even mean a shopping trip after finding out that your kids don't fit into last year's school clothes. Or their groovy white shoes. But it also means new learning opportunities and discovery, and who can't get on board with that?
If you haven't heard of Pete the Cat, well, we're sorry. We've really tried to do our part to enlighten everyone regarding this whimsical guy. Pete started out in 2008 as a character in self-published children's books by New York Times best-selling artist James Dean. Pete has now grown into a well-loved book series, a TV show, theater production, and, of course, classroom themed decor and products for kids.
If you're already a fan of Pete, great! Even if you've never heard of him, you might like to use these activity ideas going back to school or any time! Kids will be entertained while working on those important fine motor skills, and these are simple to create for classroom and home use. Not to mention they are good for keeping little hands busy in the car, waiting rooms, and shopping carts!
Simple Activities
Start with a set of Pete's Groovy Buttons, laminated, hole punched, and paired with laces for lacing. Or how about a laminated set of Pete's Groovy Shoes for a matching game, flash cards, or again, hole punched and used with laces to learn how to tie shoes! Remember, you can laminate right in our store! We recommend the thicker, 3mm laminate for items that will be handled a lot. These would also make great file folder games!
The Pete the Cat Alphabet Set contains 37 pieces of learning fun! These alphabet and number cards would be great laminated and used as over-sized flash cards, or hung in a child's room for a whimsical touch.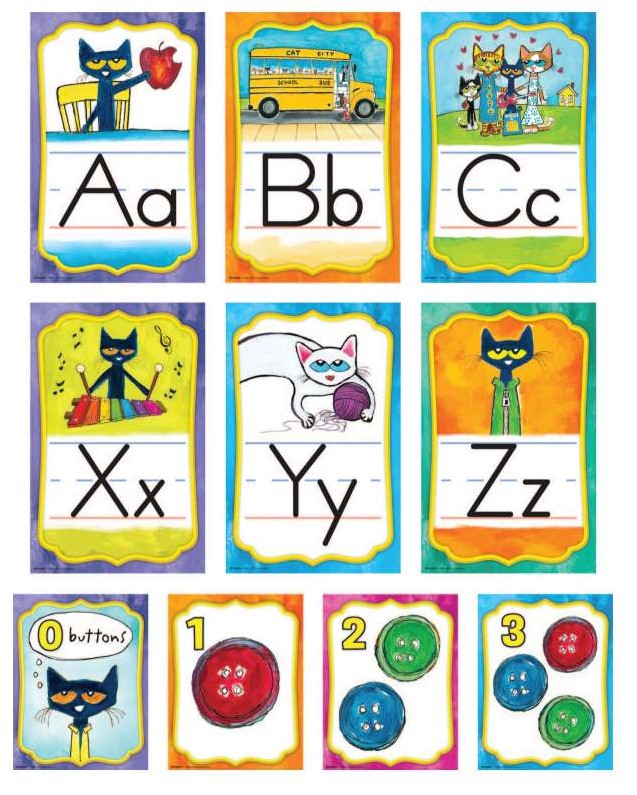 Teaching & Learning Stuff – In the Community
We recently attended the Back to School event at the Children's Museum of Phoenix and the recognizable, beloved cat got a lot of attention. Pete, in all of his groovy glory, was the star of our show. Even older kids remembered loving the books when they were "young." Kids of all ages got in on our craft time where we made these simple reading pointers, based on Pete's Four Groovy Buttons. Teachers use pointers all the time to help keep kids on track, so why not have a mini version on hand for story-time?
Kids started with a plain jumbo craft stick, which had the sticky tape already on the end. You could also just use plain craft sticks and double sided glue tape. Regular glue just oozes through the button holes and needs time to dry.
Kids chose from an assortment of buttons to stick on the end.
They colored the sticks with markers.
Pete the Cat stickers provided the final touch, and away they went. A new reading pointer that doubles as a bookmark!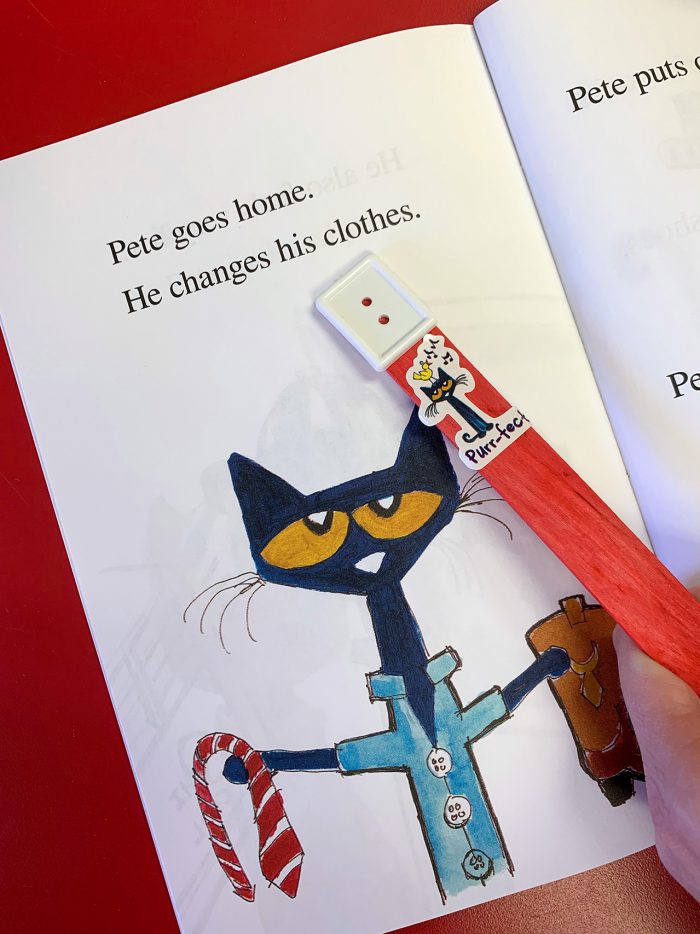 Make your own Pete the Cat Reading Pointer
August 10th, 2019: 11am – 3pm
If you'd like to make this fun craft, come in to our stores on Saturday, August 10th between 11am and 3pm. You can make your own Pete the Cat reading pointer for free with us.
Learn Some Groovy Sight Words
Pete the Cat books are ideal for children who are just learning to read. Mastering sight words is a vital step for developing reading fluency. Sight words are the most common words, and children's reading comprehension will improve when they can read them by sight without needing to sound out every word.
Sight words are usually grouped by grade level. Our free sight word list contains the sight words for pre-emergent readers through first grade. Download and print the list, and practice a few sight words every day. Have your child point them out with their Pete the Cat pointer as you read together.
Look for sight word flash cards, games, and workbooks at Teaching & Learning Stuff.